March 2021 Update
This is in part an updated and edited reprint of a report originally published on the 1st June, 2020. At the time of the original report, we were in the middle of a storm after 6 months of drought. There were slips and road closures, water supplies in some areas were affected and we were facing extremely high tides on the east coast. Click HERE for the original article.
On Friday this week we faced new but not unexpected hazards. Three earthquakes in the space of a few short hours, the largest measuring 8.1 on the Richter scale. That is a big earthquake, and in the right circumstances could have triggered a Tsunami which might have posed a threat to much of the East coast of New Zealand and caused irreparable harm.
So the question that needs to be addressed urgently is – how do the authorities warn the maximum number of people (in all the places they might be) in the shortest possible time?
But there's a second part to this question that those trying to solve it always have to answer. Once you've got peoples' attention – what message do you give them? What is the call to action, and how to make sure people understand it and act upon it in a way that saves lives? Giving people the wrong message could send them in the wrong direction – towards danger instead of away. How do we solve that problem?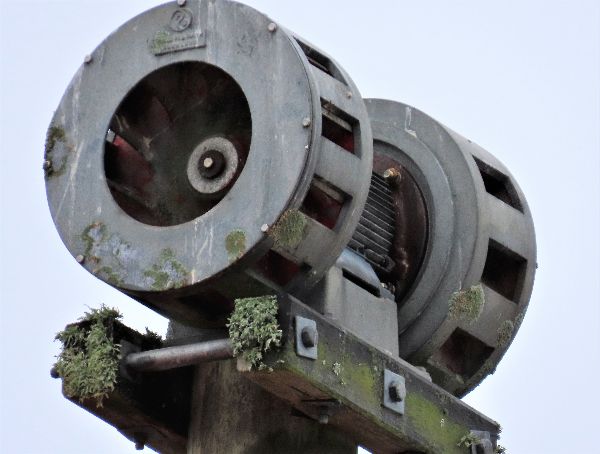 This document attempts to examine the range of challenges and options available and make our members aware of decisions that Councillors and staff have to make. We have not taken a position one way or another on this subject, however we will continue to follow the council processes and discussions and keep you informed.
IT HAS BECOME CLEAR OVER THE LAST FEW DAYS THAT THERE IS A SUDDEN REALISATION THAT WE ARE ABOUT TO LOSE OUR SIRENS, AND A GROWING SENSE OF CONCERN THAT ONCE THEY ARE SHUT DOWN, WE WILL BE LEFT IN A SIGNIFICANTLY MORE VULNERABLE POSITION THAT WE ARE NOW.
In 2014 the Government put councils on notice that their sirens and Hazard Alert Systems would have to comply with National Standards by June 2020. Since then TCDC have been investigating a mix of options. They made a decision to invest in examining a joint venture to develop the Tsunado IAD project. Initially they entered into a joint exercise with Tauranga City Council in December 2017 to investigate the IAD.
In April 2018 Tauranga City Council pulled out of the project, deciding instead to go ahead with sirens for the Papamoa Beachfront area, and TCDC decided to continue alone.
Funds were allocated in the 2018-2028 LTP, (2.12 million over three years). Councillors were asked in June last year (2020) to sign off on an initial spend of $766,530 to progress this project. Trials were conducted in conjunction with Coromandel based FM radio stations, which have the technology and the broadcast capabilities to reach areas that cannot be reached by cellphone coverage or sirens.
However there were some major hurdles identified as well as significant risk involved in entering a joint venture with the company proposing to manufacture the units.
TCDC made the decision to drop the project at the end of 2020.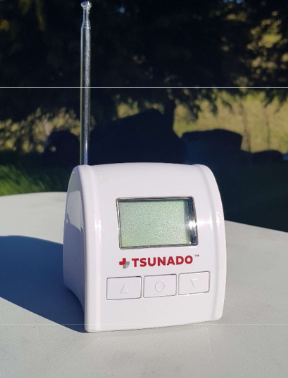 The proposed IAD (Indoor Alert Device). The concept has some significant advantages and the technology would allow warnings to reach places that cannot currently be reached by other methods. There are a number of disadvantages however. Residents would have to buy the units. They have not yet been developed to a finished stage. The risks to council funds were potentially very high.

Tsunami siren disconnection
The paging system triggering the 27 tsunami sirens around the Coromandel will start to be disconnected over the next few months – to be completed by the end of September.
This was endorsed at our Council's Emergency Management Committee meeting today.
You can watch the recording of the meeting HERE.
You can read the agenda for this meeting, and other meetings, on the TCDC website.
"All but nine of the sirens are attached to the Fire and Emergency NZ (FENZ) network and they have requested we disconnect them so that they can make improvements. But also, as a tsunami alerting tool, they are only 44 per cent effective, in fact they're the least effective method of this type of alert. It's time to get on and use new technological methods which will give us at least 93% effective coverage," says Garry Towler, our Emergency Management Manager.
In July 2020, our Council received a letter from the Director of Civil Defence Emergency Management (CDEM) advising us to disconnect the 27 tsunami sirens within our district, nine of which are on Council land or attached to Council buildings. Since July 2020, we've been working with FENZ on how we can disconnect our siren pager network and what processes will be used once they are disconnected.
"For a lot of people, sirens are what they've known all their lives, and this will be a significant change," says Mr Towler. "We'll be kicking off a public campaign, to help educate people and answer any questions, which will be done in conjunction with our Emergency Management team and FENZ."
'It's estimated that over the peak summer period, with the use of technology we can currently reach 93 per cent of the population," says Mr Towler. "By the time the sirens are disconnected, this will hopefully be at 96 per cent. For people in remote areas who may not receive alerts, other systems and awareness education will be used."
"We'll be installing prominent signage on beaches, which will help raise awareness. It's the technology and the signage working together that'll help our system improve," says Mr Towler.
TCDC website has information about what you can do in an emergency and how you can be alerted.
Read more in the official report HERE.
This was the first Emergency Management Committee meeting for the year – the last meeting was held on 9 December in preparation for a very dry summer.
"It was a good summer, we had no major water issues, solid waste had a few problems as it's always 'maxed' out over the peak period. We also had no major storms or cyclones. We didn't dodge a bullet, we were just well prepared," says Mr Towler.
The earthquakes that took place on the 5th of March this year were a wake up call for Coromandel residents, coinciding with the announcements and realisation that our sirens were due to be decommissioned in September and council had not yet announced their plans for replacements or alternatives. So what are the options if we go with sirens, and how much do they cost?
Council staff have quoted an estimate of $150,000 each to replace the 30 sirens (23/04/2020).
FIXED POSITION HAZARD ALERT SIRENS FALL INTO THREE MAIN CATEGORIES – click HERE to read the original article which details these categories
https://www.civildefence.govt.nz/assets/Uploads/publications/The-use-of-sirens-for-tsunami-warning-in-New-Zealand.pdf
NOTE: This is an in-depth report totalling 61 pages – only for those who really want the hard details.
The huge wildcard in this scenario, and one which might just have the potential to provide a comprehensive solution, is American billionaire Elon Musk (Tesla) and his Starlink satellite systems. The plan is to have up to 75,000 satellites circling the earth which will provide internet access to every corner of the planet, however remote. This could potentially give emergency services the ability to reach warning systems and devices anywhere on the Coromandel Peninsula, both on and offshore.
The Starlink system is a reality now, and early adopters have already started signing up for the service. We have no idea if TCDC are investigating this option, but we hope they are.
There is a lot more to come on this subject. The TCDC draft Long Term Plan is due to be released on 12th March, and submissions from the public will close on the 6th of April. This will be a very substantial document and the WRRA team will report back with recommendations once we have seen it. We don't know yet if the issue of sirens or or hazard alert systems is being addressed in the LTP. We believe it will, and we'll let you know what we find.
Thank you
Len Salt – Chairman – Whitianga Residents and Ratepayers Association.