August 2021 Update
CHAIRMAN'S COMMENT:
This is probably the most significant transformation of local government in recent memory. Sadly, like a small plane with a dodgy engine, it has landed squarely on the mis-information super highway in the middle of peak hour traffic and a Covid pandemic.
This is a complex subject. The technical, financial and political ramifications are different for each of the 67 councils affected. Much of the information and discussion around Three Waters is still being decided and discussed, both at government and council levels.
What is certain is this – Three Waters will affect every one of us in one way or another, and it's too important for decisions to be based on incorrect information. It's equally too important for partisan politics.
IMPORTANT:
It's distressing to see the amount of pure garbage flying around on social media pages about Three Waters. As somebody who has spent many hours researching this subject and finding out the facts to present to our members, it's very frustrating to see people post incorrect information because they simply haven't done their homework.
NOBODY has all the information on this subject at the moment, especially not us. As soon as we do, we'll let you know. Important decisions that affect our future well-being will need to be made on this subject, and they should be made on facts, not half truths, rumours', political or racial bias and prejudice. So let's all take a deep breath and take this one step at a time so we get it right.
Len Salt – Chairman – WRRA
Key points:
TCDC now and into the future will be unable to provide the level and standard of water infrastructure needed without pushing rates into the stratosphere. Not all councils are in the same position. We are.
TCDC have done a creditable job on water infrastructure, but it comes at a cost. Future debt implications for council and ratepayers are grim if something doesn't change.
Local body politicians will not be able to support the rate rises needed for infrastructure without losing their seats to candidates who make promises they can't keep to "keep rates down".
DIA (Department of Internal Affairs) has said they will write off $89 million of TCDC debt and we'll get another $19 million for council projects.
According to TCDC Chief executive Rob Williams, there is still some clarification needed around the level of debt that will qualify for the government write off. This is partly because TCDC has a mixture of external debt and internal debt (borrowings against depreciation reserves set aside for future renewals). If the government writes off only external debt then the figure could be closer to $60 million, not $89 million. It's a very big difference and there are still no clear answers.
There are still many, many unanswered questions, and there is a great deal of concern at the speed with which all this is happening. Some councils are starting to actively push back against the government asking for more time to consult their communities.
WHAT ABOUT REPRESENTATION? DO WE GET A SEAT AT THE TABLE?
This is a critical question. Will TCDC get a say in how the budgets for the new water authority are prioritised and spent?
The information on how these governance and management positions are being decided is still vague and unclear.
It's something we need to watch very carefully.
WHAT ABOUT THE WAKA KOTAHI EXPERIENCE?
Good question, and if we also end up being bottom of the pile when it comes to priorities, then that too is a major problem. Our ability as a district to get priority on roading spend leaves a lot to be desired. Will the same happen with water?
COULD THREE WATERS END UP BEING A BUREAUCRATIC BLACK HOLE WHERE MONEY GOES IN AND IS NEVER SEEN AGAIN?
It happens – all the time. Auckland City Council just spent $851,000 on planters, decking and painting an intersection blue. $192,000 of that was just on the paint. Our council has some similar experiences. Council and Government departments' spending, particularly when it comes to contracted services, has gotten out of control over recent years.
This is why we need good people from our own district at the table making decisions on spending, not just for Three Waters, but across every facet of Council and regional operations.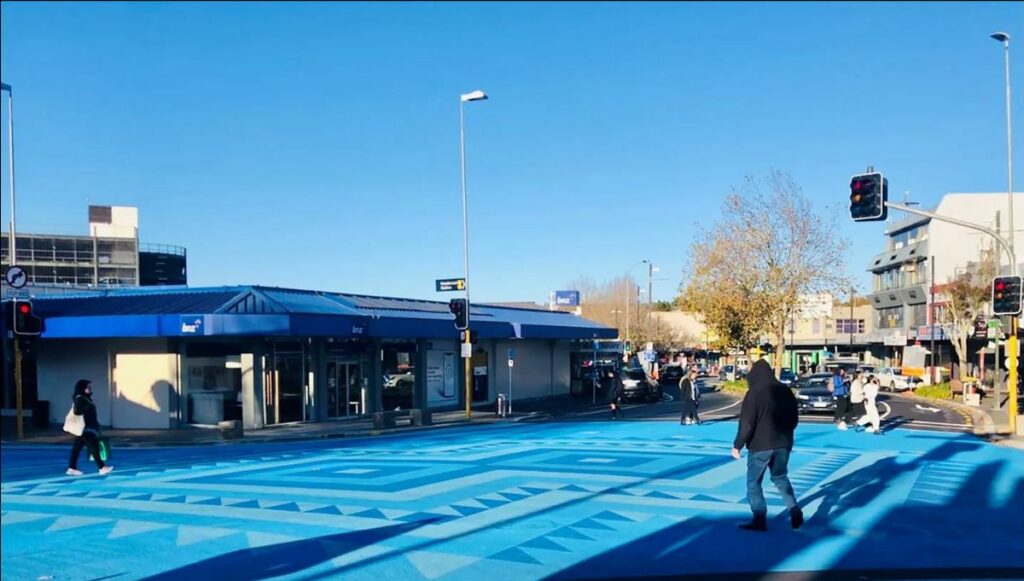 $192,000 for blue paint, plus wooden pot plant holders ($18,128), concrete pipe planters ($51,557), bollards ($17,000) and decking ($31,610). Total $851,000 spent by Auckland City Council on a temporary installation. Is this what happens when good money follows bad decisions down the drain?
Without diligent oversight from our own Thames Coromandel representatives on the board, (assuming we get some on the board) could Three Waters governance become just another a bureaucratic money drain?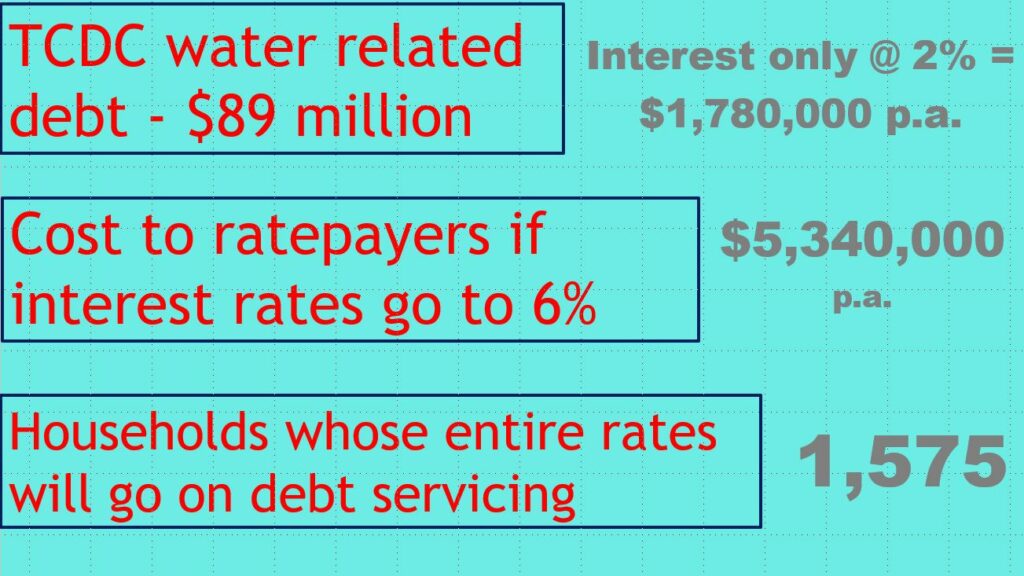 Thames Coromandel Mayor Sandra Goudie:
"This is a proposal of significant local impact. I don't think there is a good understanding in our community of what it means and how it will affect people. We are carefully reviewing all the material that has been released this week to decide if community consultation is required before we commit further to the process."
Sandra Goudie is right. There's a lot more work that needs to be done and we know that council staff are working overtime assessing all the information. We are confident that TCDC will provide a full and accurate picture of what we can expect as soon as they can. For more information on Council work on Three Waters follow this link….
HOWEVER….We do know that there are still a lot of unanswered questions from the government and ALL councils are struggling to make decisions based on the information they have so far.
Thames Coromandel district has a small ratepayer base, extremely challenging geography and coastline, very limited sources of water and high costs involved in getting that water to residents.
Other districts face similar challenges to us, while some areas have large rivers and lakes and larger populations to spread the cost.
There is a strong argument for water infrastructure costs to be managed on a national basis simply because smaller councils will go broke trying to meet the new standards.
Councils are also limited by the Local Government Act as to how much debt they can incur in relation to their rates income. WRC Councillor Denis Tegg has some interesting commentary on why we should sign up to the reforms to get rid of the debt burden. Read more
What's to come? – The Three Waters Timeline
July 2021 – information on setting out transitional and implementation arrangements (including storm water and community/private supplies)
Water Services Bill to be passed into legislation and the Local Government Act amended
September 2021 – councils to conduct public consultation on the reform, that will follow a prescribed process provided by central government
September 2021 – entity boundaries confirmed
October 2021 – Government discussion paper on the economic regulator released
December 2021 – councils to decide if they are opting in or out of the proposal
January 2022 to June 2024 – transition phase
April 2022 – Cabinet decision on economic regulator and legislation introduced late 2022
1 July 2024 – entities fully operational
This Newsroom article has interactive charts detailing the effects on district councils water costs with and without reforms.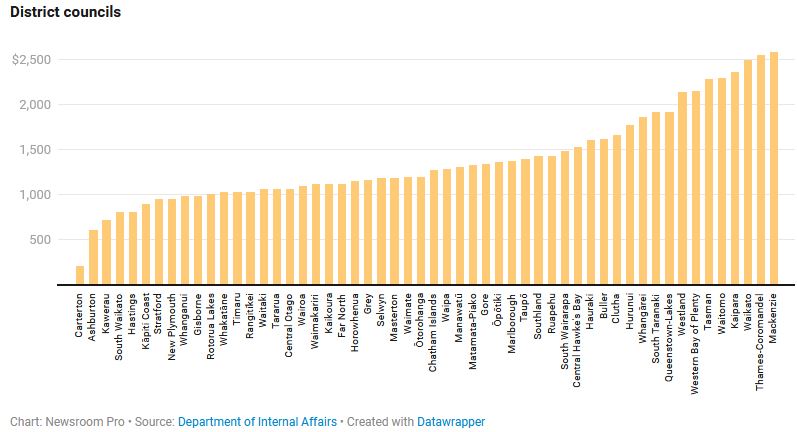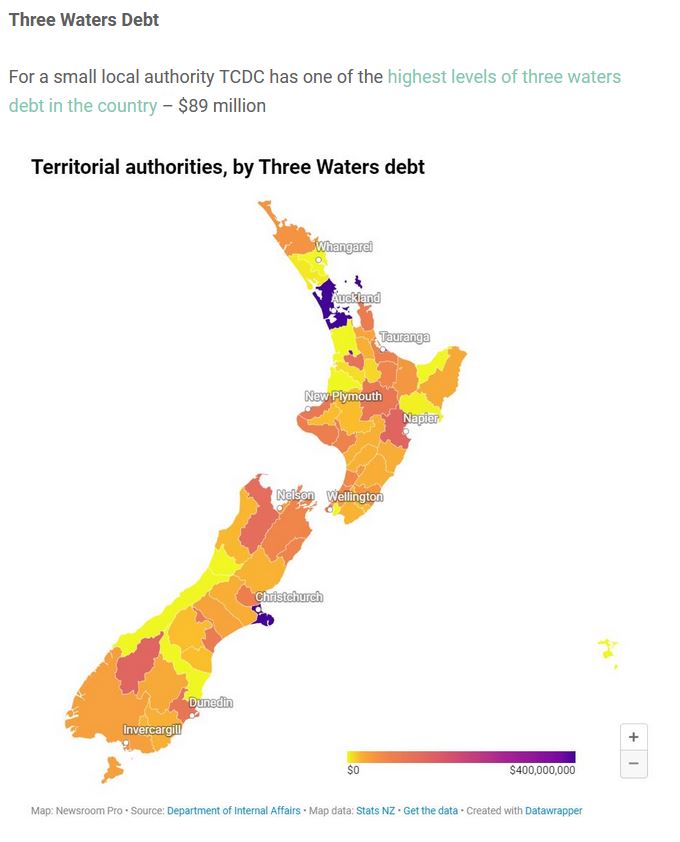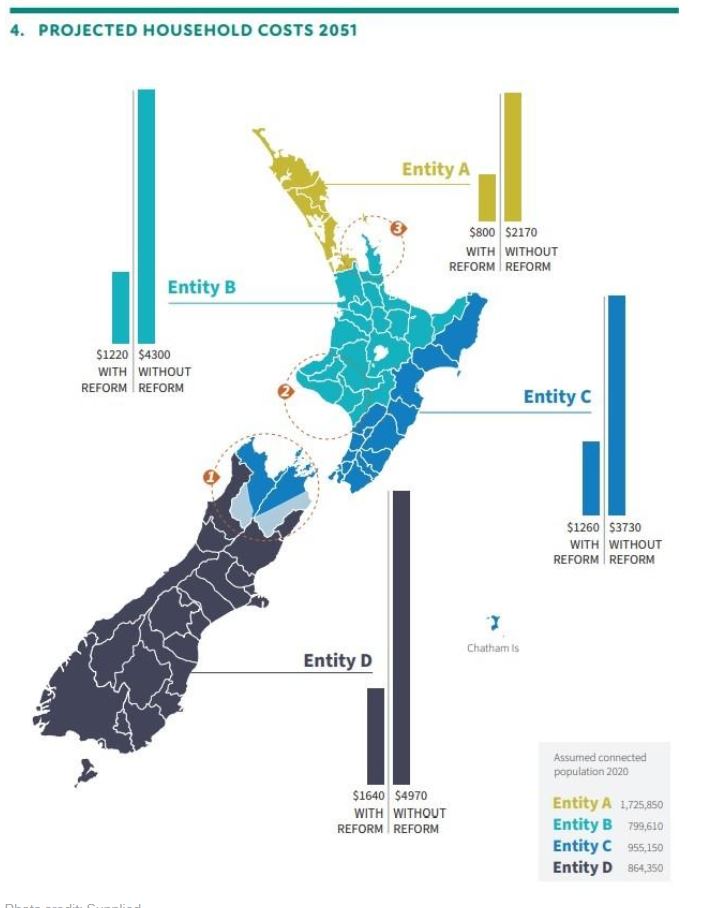 Greypower Mercury Bay President Merle Edwards and Vice President Len Salt attended the Greypower National Federation AGM in Nelson recently.
Three Waters was a hot topic for discussion as expected, and we were pleased to be able to submit a special remit calling for local government authorities to take all possible steps to ensure that water assets are not privatised.
Since then a number of Greypower Associations throughout New Zealand have picked up this remit to make submissions directly to their own councils, asking that they act as soon as possible and ensure that these assets do not end up in private hands.