October 2020 Update
TCDC is undertaking a review of its Water Demand Strategy and has opened this up for public submissions. The submission period ends on 30th October 2020, so please make sure you have your say around this important matter. A couple of issues have arisen during this process:
First: some of our members tell us that the online process for submitting is complicated and frustrating, causing some to give up before completing it. If you have trouble doing it online, below are some other options for completing your submission.
send an email with your submission to

[email protected]

fax your submission through to (07) 868 0234
complete a submission form and post it to Thames-Coromandel District Council, Private Bag, Thames,3540 or
drop it into the offices at 10 Monk Street, Whitianga
Click HERE to make your submission online
Click HERE to download a submission form
Second: Nothing in the 30 page Water Demand Strategy indicates the council is planning for additional storage or supply capacity for Whitianga.
Click HERE for the full Draft Water Demand Strategy.
Click HERE for a summary of the Key Action Points
The focus of the strategy is on:
Water conservation (reducing the amount of water that we are using daily)
Getting us accustomed to regular summertime water restrictions
Rainwater storage (residents and homeowners' cost and responsibility)
Water meters and charging for water usage (where they are not currently installed)
The document clearly states that:
"Thames-Coromandel is experiencing a change in historical climate patterns including more pronounced dry periods."
"This Water Demand Strategy sets out how we can all work together to reduce the demand we place on our precious water resource."
TCDC Bulletin – 15 October 2020
"Stock up on water ahead of a potentially dry summer. Water restrictions will inevitably be in place again this summer, so capture that spring rain off your roof and store it for those fast approaching hot summer days."
A section in the introduction titled "Increasing Water Supply" clearly tells us that council won't be doing anything of the sort in the immediate or long-term future. There is no stated plan to investigate or invest in additional water supply or storage capacity.
The WRRA position is that we support water conservation measures, both at individual and community levels. However, what seems to be happening in this policy is TCDC shifting responsibility for water conservation primarily onto the shoulders of residents and ratepayers. However, according to TCDC figures, Whitianga already has an impressive record of water conservation with a PCC number of 190 for February last year. (Per Capita Consumption – litres per head per day).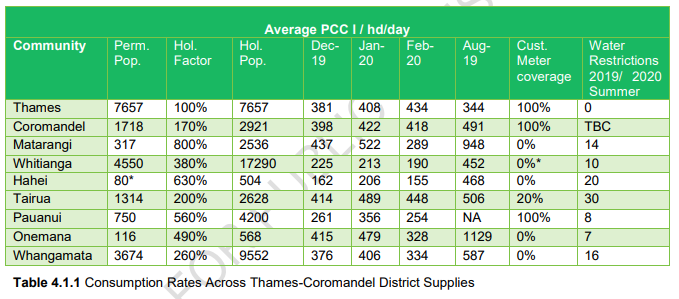 There is an active media campaign encouraging us to install rainwater tanks, pumps, and greywater systems. If the individual homeowner has to do this, there will likely be a significant cost involved and possibly a building consent. Those renting their properties are unlikely to convince their landlord to spend $5,000 on water tanks and pumps. Bach and holiday homeowners are unlikely to bother (yet the times when they are here are the times of greatest pressure on the water supply). The current wait time on getting a tank delivered is between 8 and 12 weeks, so if you haven't ordered it already, you might struggle to get one in time.
Anybody in a retirement unit, an apartment, or a section that doesn't have the space will have limited options. And even those who do invest in a tank that can hold 5-10,000 litres are likely to find that it won't last them long if we have another drought like we did last summer. Those who were buying water to fill up their tanks last summer ended up paying up to $1,100 for a 10,000-litre fill that had to come from Hamilton.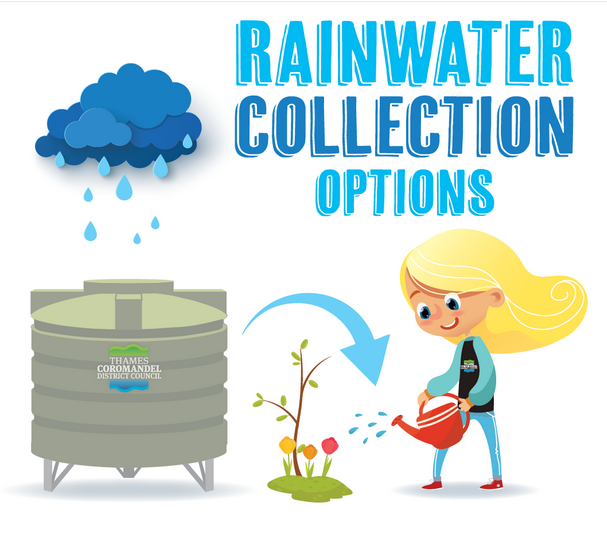 Back in February, at the first public meeting held on water, Councillor Tony Fox made a very constructive suggestion that the council might assist with low-cost loan funding and bulk purchasing of tanks. It's a great idea. Let's see if the council can make it happen. Click HERE to view a recording of this meeting along with Councillor Fox's comments.
If you read the statements coming from TCDC and in the media about the water supply situation, you might be forgiven for thinking that the policy has already been set and wonder, "what's the point of submitting?" If we do not make submissions, then councillors will feel justified in saying they opened the process up for submissions, but people didn't bother. Hence, it's obviously not an issue of importance to the community. There's already been a comment to that effect in the Informer article. "Only 9 submissions have been received".
People have lives to live, jobs, families and responsibilities apart from getting involved in council business every 5 minutes. We elect representatives to do the job, so most of us want them to get on with it and make the best decisions for our community; however, it's your council, and you are entitled to have a say in these policies.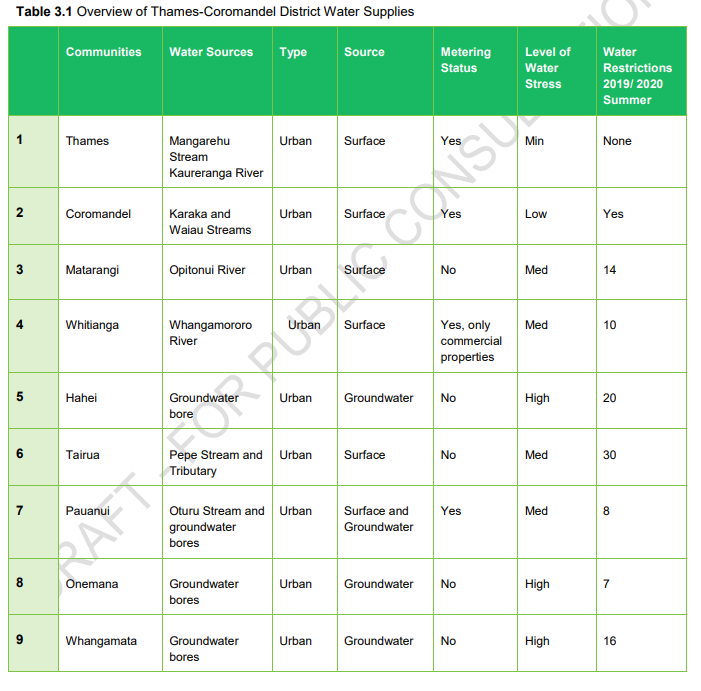 THE WATER DEMAND STRATEGY DOCUMENT CONTAINS THE ABOVE CHART OF HOW MANY DAYS EACH DISTRICT WAS ON WATER RESTRICTIONS LAST SUMMER. WE HAVE LEGITIMATE CONCERNS THAT IF COUNCIL ARE BASING THEIR DECISION-MAKING ON THESE NUMBERS, THEN SOMETHING IS BADLY WRONG. WE HAD RESTRICTIONS IN PLACE FOR OVER 6 MONTHS, NOT 10 DAYS, AS REPORTED IN HIS CHART.