January 2021 Update
On Friday 6th November we entered Stage 2 – Conserve Water. As expected there has been insufficient rainfall and the catchments still haven't recovered from the drought of 2020, which is on record as one of the hottest years ever.
We are currently sitting on Level 4 restrictions, which means a total sprinkler ban and hand held watering on alternative days only.
So is there any good news? Well maybe, sort of. We posted a comment on Facebook recently, based on our assessment of water levels and official information from TCDC, that we were likely to go to level 5 shortly (total watering ban).
Councillor Fox responded with an assurance from the TCDC Chief Executive Officer Rob Williams that there were no plans to go to Level 5. So that's good news, unless we do go to level 5. Hopefully not. None of us want a repeat of last year. We are more than happy to retract and apologise if it means a better outcome for the people of Whitianga.
Your WRRA water action committee have produced an extensive report on the Whitianga water supply situation. This was submitted to TCDC as part of our submission on the Water Demand Strategy. It has generated a lot of interest and we have had numerous requests for copies. If you have any questions about how we get our water supply and what the options are for the future, you might find some of the answers here.
Click HERE for your copy of the document.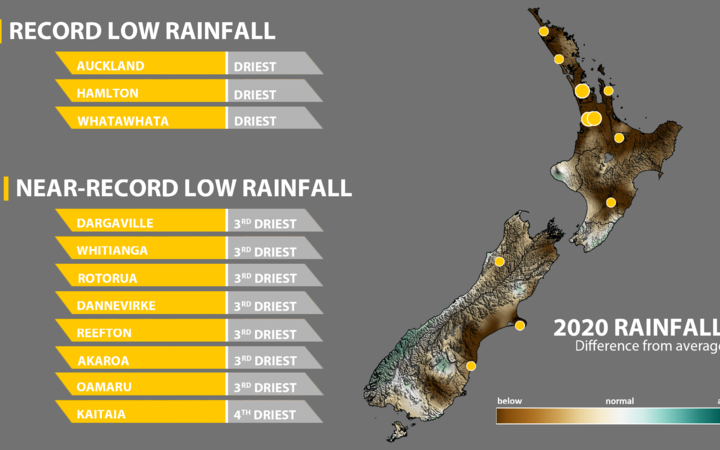 Whitianga had near record low rainfall in 2020 (Graphics credit – NIWA). Of greatest concern is the cummulative "concertina" effect of dry months and years coming hard on the heels of the ones before, and allowing insufficient time for catchment areas to recover before the next drought hits.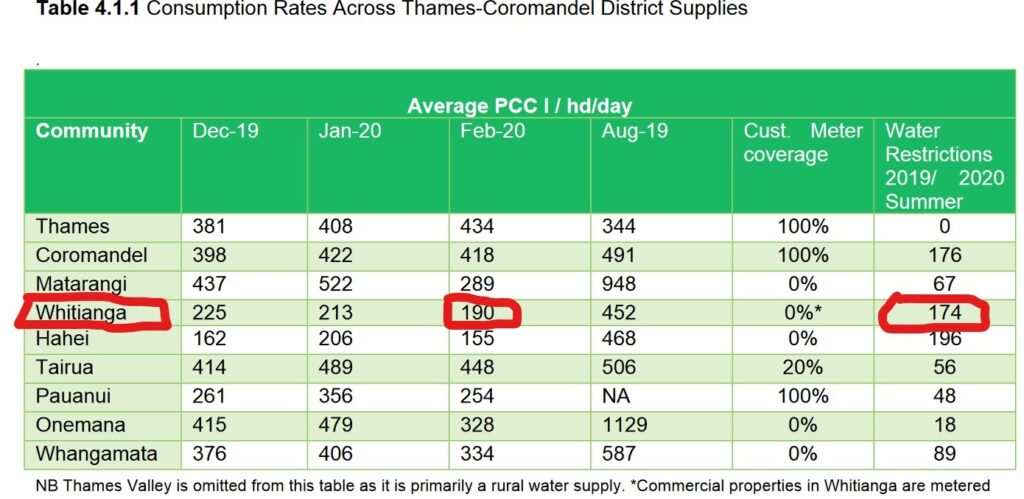 WATER CONSERVATION – HOW ARE WE DOING?
The original Water Demand Strategy document had a chart that showed Whitianga having just 10 days of water restrictions last summer. This was a significant error – in reality we were under restrictions of one level or another for almost 7 months of 2020.
We lobbied council very hard to amend this because important decisions would be made based on this data.In the revised document (above) TCDC has corrected this error and now shows 174 days of restrictions, much closer to the truth. We're going to hope that it was a genuine mistake and not a case of council presenting us with "alternative facts".
The February 2020 figure for average PCC (Per Capita Consumption – litres per head per day) shows that the people of Whitianga used on average 190 litres of water per person per day during one of the hottest months of a record breaking drought year. The district average was 517 litres Per Person per day.
WE ARE SUPERSTARS! So TCDC can rest assured that the good citizens of Whitianga are doing our bit to conserve water. So what is our reward? You guessed it – water meters, at a cost yet to be confirmed but which could go as high as $4.8 million (across Whitianga and Whangamata). Are we paying for this technology out of rates? No, not directly.
THREE WATERS, AND WHY IT MATTERS TO YOU
The money for the new meters in Whitianga and Whangamata is coming from the Government's 3 Waters program which TCDC has signed up to.
In the short to medium term (1-3 years) all of our water services are likely to be taken off council and will go into a regional water authority. The final shape of that new authority is still unknown, and there will be a period of public consultation in which we will take an active part.
IS THREE WATERS A GOOD OR A BAD THING FOR THE DISTRICT?
It's too early to say. We simply don't have enough information about how the new regional authorities (if that's what's involved) will be constructed. However we are in agreement with TCDC on one critical fact about water infrastructure. The numbers involved are potentially eye-wateringly huge and our district, with fewer than 30,000 ratepayers, cannot afford to pay for the infrastructure that could potentially cost hundreds of millions of dollars. The Coromandel is a large area, geographically challenging and costly to build on. Council has responsibility for all parts of the district, not just Whitianga.
A new, regional water authority, with access to government funding or with the ability to structure long-term, inter-generational funding, will potentially provide a solution and allow us to put in place the water supplies, storm-water and waste-water facilities that we need to maintain healthy, future ready and resilient communities across the Coromandel. Of course there is a lot of work to be done before we get there and a lot of unanswered questions along the way.
In our public water crisis meeting held in February last year we pushed council hard to provide some constructive solutions to the water supply issue. Councillor Tony Fox suggested council could assist with bulk purchase and installation of tanks, financing through council with long-term low cost repayments on our rates bills. Great idea Tony.
It's taken almost a year but the council meeting for the 8th December finally had this item on the agenda, although the wording remains very loose and undefined. It's the first sign that we have seen from council of a constructive and pro-active initiative after nagging them for almost a year.
Is it enough? What are the details? We don't see why this shouldn't get full council support. If it's set up correctly it will be zero cost for council apart from the administration, and council has the resources to do that already. This needs to go from a policy on the Water Demand Strategy to an actual programme that people can start using. We'll be pushing council to try and make it a reality.
In the meantime one of our members, Allen Kerley, has come up with a great plan to help out anyone who might be looking at a small to medium sized tank for collecting rainwater and watering the garden, washing the car or the boat under restricted conditions. Is this something that would help you out?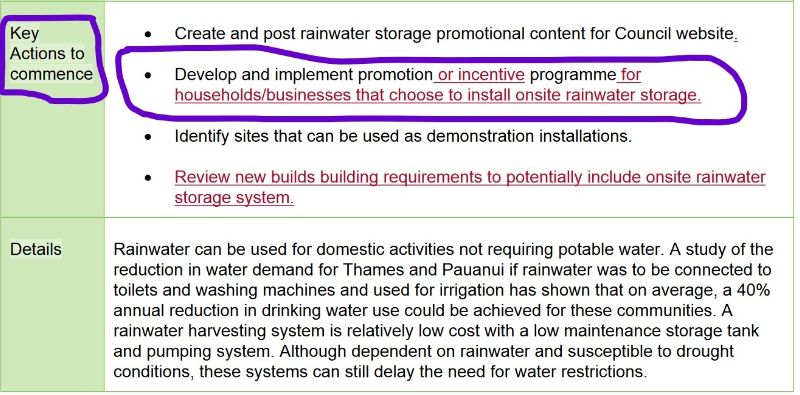 A snapshot from the TCDC Water Demand Strategy. When Councillor Terry Walker questioned why there was nothing in the document dealing with alternative supply options, it was explained to Councillors as a way of managing current resources, not addressing the critical question of future supply. We hope and expect these will be tackled in the coming Long Term Plan which is currently being drafted by council and due to be finalised by 30th June, 2021.
There is a significant amount of new development planned for Whitianga. If the infrastructure is not addressed urgently then do we face the possibility of having hotels, a medical centre, cafes and restaurants and a brand new retirement village unable to operate because they have no water to keep the doors open?